Plein Air/Outdoor Painting Watercolor Workshop
Monhegan Island, Maine
July 10-14, 2023 – Monday through Friday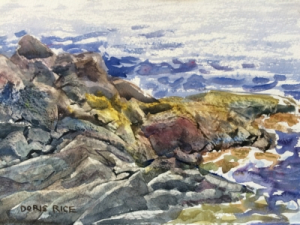 Paint with us on the Artists' Island of Monhegan!  We will be working en Plein air every day to create impressions of this beautiful spot, meanwhile learning the fundamentals of art. Each painter works to his or her own rhythm and style. All levels of experience are welcome.
Whether walking the trails or looking out over the cliffs to sea or land beyond, Monhegan offers a painter an incredible 'get-away'. Temperatures are customarily gentle….no 'mainland' July heat. Scenes are familiar, yet exotic, as seen through the eyes of the many diverse artists.
COST:  $425.00/workshop fee for 5 days, $90/day rate
To register, send a deposit of $100.00 by March 1 to Doris Rice, (address below).  Balance due May 15. Refund of $50 on the initial deposit if canceled by 6/1. Students should secure their own lodgings (book early!), transportation, and food.
WORKSHOP DETAILS:
Sunday 7/9/23 arrival is advised with Fri afternoon or Sat departure? (depending on your desire to hike and explore after the class ends….…well worth staying the extra day or two!)
Monday 9:00 AM, we will gather at Doris' Rental house: TBA. Awaiting rental confirmation.
Each morning after that, we will meet at the day's specified painting location for a demo/lecture, then on to create individual works of art; possibly visiting a working artist's studio/gallery, and closing our day with a critique.
We will focus on principles of painting, with the village/cliffs/ocean, etc. for inspiration.
There are 17 miles of hiking trails, for the energetic, so bring good footwear!
This will be an experience enriching for the mind, body, and soul! We are always good company. You're welcome to join me!
Materials:
A General Workshop list is available under Classes on www.DorisRice.com      If you are already a watercolor painter, bring your own choice of materials.
Folding chair or tripod camp stool? Easels are not mandatory but suggested. It makes outdoor painting a better experience.
ACCOMMODATIONS:
Booking for rooms/apartments should be made as early as possible, end December into early January. Rentals officially start 1/1 every year…tell them you are in my workshop.
Check out:  www.monheganwelcome.com look under 'sleep'
The Island Inn (rooms with full breakfast/dining room)  private bathrooms  207-596-0371
The Trailing Yew (rooms, meals included/family style) 207-596-0440
Shining Sails B&B  (rentals: apts/private baths, homes, rooms) 207-596-0041
Monhegan House (breakfast…rooms, dining room available)   207-594-7983
Tribler Cottage (apartments) 207-594-2445
Brackett's Oar House  207-594-9151
HitchcockHouse.com 207-594-8137  (up a good sized hill, but if you are a hiker/ walker, the owner, Barbara Hitchcock is delightful) Great views!
Feel free to "google.com" for direct connections and email addresses for locations.  Many places have shared bathroom facilities.  Some restaurants and grocery services are available, so you won't go hungry. A cooler with choice nibbles is advised.…. call me with questions.
TRANSPORTATION TO THE ISLAND:
FERRY: 
Reserve ahead.  Parking arrangements and schedule info is available directly from each boat line. Call or look on line:
Laura B. out of Port Clyde (Monhegan Boat Line) 207-372-8848
Balmy Days out of Boothbay Harbor 207-633-2284
The Hardy III, out of New Harbor 207-677-2026
Need more info?
Email Doris:  [email protected]t
Cell: 603-724-7779
www.dorisrice.com